15-Night Caribbean Holiday Voyage
on Azamara Quest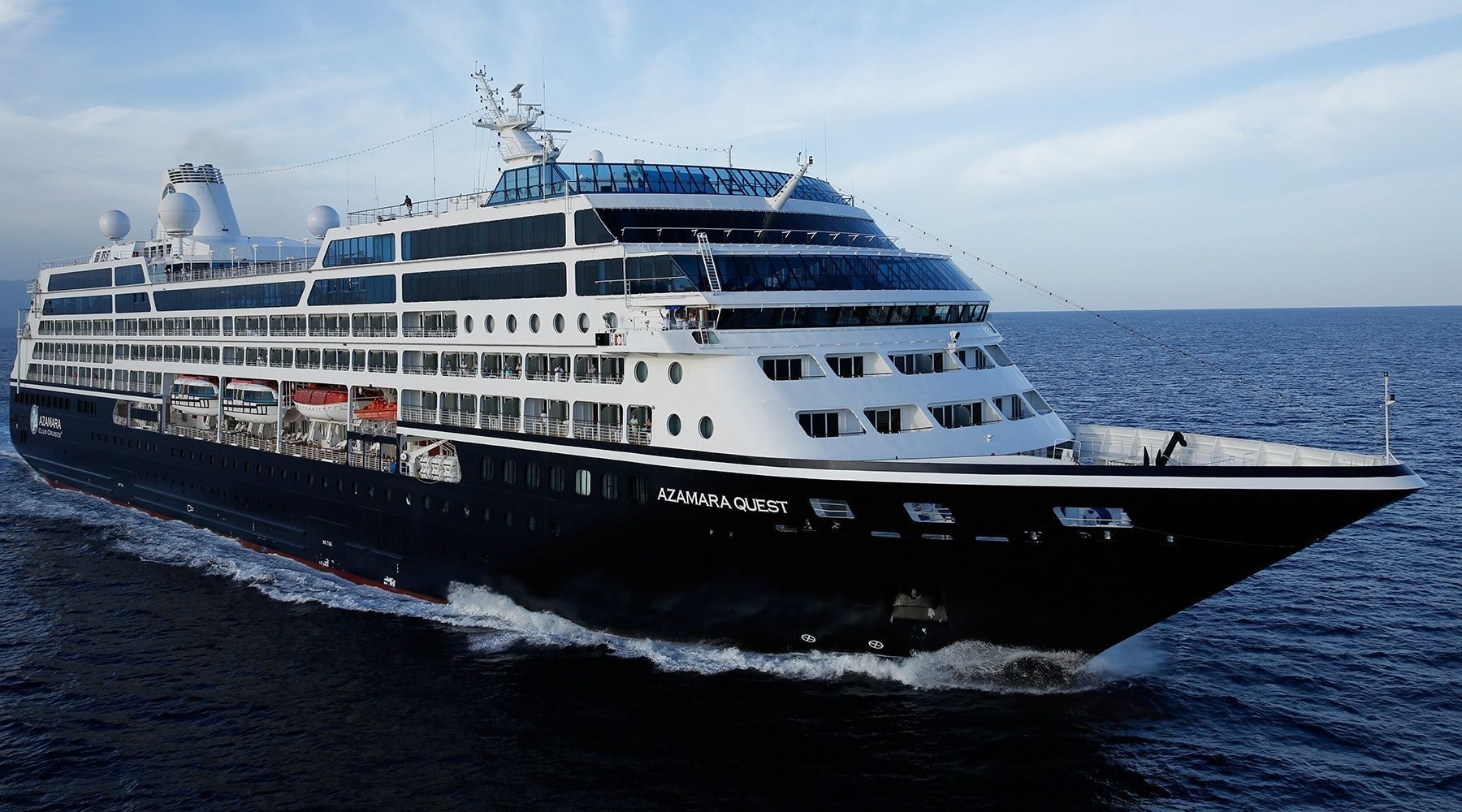 RING IN THE HOLIDAYS AT SEA
Join us for a festive holiday voyage to some of the most sought-after Caribbean destinations, with 10 incredible ports and three late-night stays. From marvelous Miami, take two days sailing to discover all your boutique hotel at sea offers before arriving in Charlotte Amalie, US Virgin Islands—a city with a swashbuckling past. Today, warehouses once owned by pirates have been converted to shops and malls, where you'll find treasures those buccaneers could never have imagined.
On St. Maarten, revel in Philipsburg's nightlife and lavish casinos with a late night in port. A visit to Îles des Saintes on Guadeloupe like taking a trip to the South of France—but with more palm trees and white sand beaches. On St. Lucia, Castries is where you'll explore ecosystems not found anywhere else in the region on a late stay, including rain forests, mountains, and beaches. Not to mention volcanoes.

With one road, one village and only one way to access the island, Mayreau is a singular sensation in the southern Caribbean full of aquatic adventures. A touch of London—but with sun—a late stay in Bridgetown affords you plenty of opportunity to sip on some rum at the Mount Gay Rum Distillery and take advantage of the duty-free shopping before ringing in the new year at sea.
Be sure to take a trip to Brimstone Hill Fortress in Basseterre, St. Kitts' one-and-only UNESCO World Heritage Site. Perched high atop a dormant volcanic lava spout, you'll be rewarded with spectacular panoramic views for making the trek to the top. Bookended by days at sea, you'll be treated to an exclusive experience on Labadee. Tucked away on the north coast of Hispaniola, the port of Labadee is only available to Azamara® passengers, lush jungle-covered mountains spilling into the turquoise blue waters.
Wrapping up your holiday voyage, we call on cool, quirky Key West with its one-of-a-kind charm before concluding back in Miami to soak up a little more sun before returning home.

Welcome.
Here at Azamara, we continue our efforts to be the world's top up-market cruise line.
As such, we are committed to providing you with unparalleled service; the finest dining at sea; a glorious spa and wellness retreat, and innovations such as Destination Immersion® experiences.
With our hallmark of stay longer, experience moreSM, we'll not only take you to awe-inspiring destinations, but also give you more
/p>
...
Inside Guarantee - Cat. Z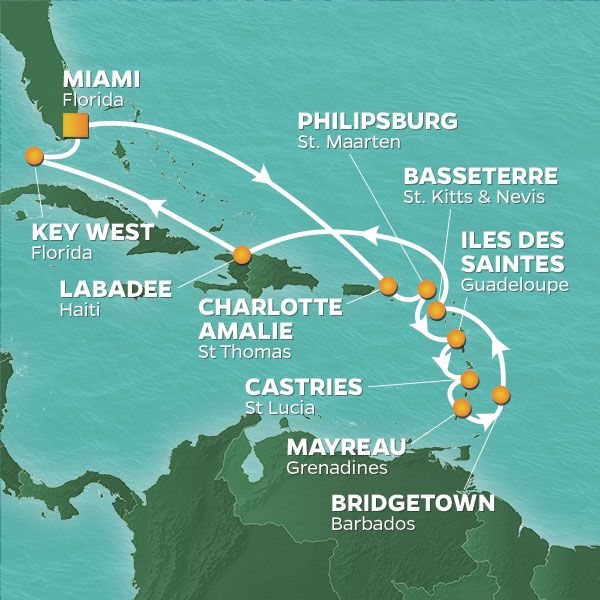 | Day | Port | Arrive | Depart |
| --- | --- | --- | --- |
| 1 | Miami, Florida | | 5:00 PM |
| 2 | At Sea | | |
| 3 | At Sea | | |
| 4 | Charlotte Amalie, St. Thomas | 9:00 AM | 6:00 PM |
| 5 | Philipsburg, St. Maarten | 8:00 AM | 10:00 PM |
| 6 | Roseau, Dominica | 1:00 PM | 7:00 PM |
| 7 | Castries, St. Lucia | 8:00 AM | 8:00 PM |
| 8 | Mayreau, Grenadines | 8:00 AM | 6:00 PM |
| 9 | Bridgetown, Barbados | 8:00 AM | 11:00 PM |
| 10 | At Sea | | |
| 11 | Basseterre, St Kitts & Nevis | 8:00 AM | 5:00 PM |
| 12 | San Juan, Puerto Rico | 8:00 AM | 5:00 PM |
| 13 | At Sea | | |
| 14 | At Sea | | |
| 15 | Key West, Florida | 9:00 AM | 5:00 PM |
| 16 | Miami, Florida | 6:00 AM | |